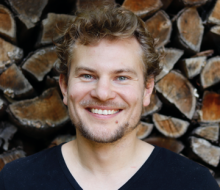 I experienced the Colloquium as a safe and deep space of like-minded people willing to walk the extra mile when it comes to the boundaries of science. I really liked the warm welcome and professional facilitation. Even if it is only an online space, you can see and feel the community and practice and engage in a safe space.
My intention and goal with presenting my work on Global Social Witnessing was to deepen the participants' understanding less on an intellectual, but also on a practical level. It was a bit of an experiment, as well as a very good experience to see that people were willing to try something new and to engage in the proposed practice. It was a pleasant surprise to see how participants were moved through the witnessing exercise of the corona virus crisis.
One question that came up for me was how we can we build communities and networks of care that engage in a deep witnessing practice to enable sense-making in times of global and local uncertainty. I really like the outcome and felt connection around the transformational potential that we have through something like the Corona virus crises. It will be interesting to explore that further through an integral/ metamodern, as well as a very hands on approach.